Thang - ta & Sarit - Sarak
The history of Thang - ta and Sarit - Sarak can be traced to the 17th century. Thang - ta involves using a sword or spear against one or more opponents. Sarit - Sarak is the technique of fighting against armed or unarmed opponents, but on many occasions there is a combined approach to the training of these martial arts. These martial arts were used with great success by the Manipuri kings to fight against the British for a long time. With the British occupation of the region, martial arts were banned, but post - 1950s saw the resurgence of these arts.
Demonstrating a duel between Thang ( a sword ) and a Ta ( a spear )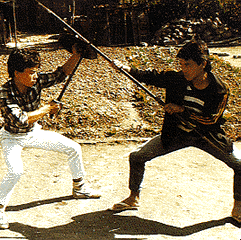 Thang - ta is practiced in three different ways. The first way is absolutely ritual in nature, related to the tantric practices. The second way consists of a spectacular performance involving sword and spear dances. These dances can be converted into actual fighting practices. The third way is the actual fighting technique.
The Sarit - Sarak art of unarmed combat, is quite distinct from other martial art forms. It is simply flawless in its evasive and offensive action, as compared to any other existing martial art of the same school.
Legend has it that Lainingthou Pakhangba, the dragon god - king, ordained King Mungyamba, to kill the demon Moydana of Khagi with a spear and sword, which he presented to the king. According to another such legend, God made the spear and sword with creation of the world. This amazing wealth of Manipuri martial arts has been well preserved, since the days of god king Nongda Lairel Pakhangba. The fascinating Manipuri dance also traces its origin from these martial arts.